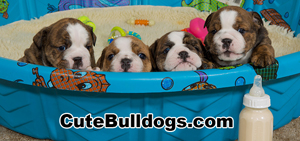 Hello, thanks for checking out our bullies and welcome to our website.
CuteBulldogs.com breeds quality AKC English Bulldog Puppies. We are dedicated and passionate about English bulldogs. We are committed to breeding to conformation, temperament and health.
If you have researched the English bulldog breed and have decided to bring a wonderful and loving addition into your family, we are happy to share our knowledge and experience with you.
All of our bullies are raised in our homes, with lots of love and attention, and get daily socializing from us and our children and neighbors.
If you are looking for a loving and playful friend, or even a couch potato, then this is the dog for you. They are happy to stay by your side or sleep the day away.
All of our puppies come with shots and pedigrees and AKC papers.
We also have top quality English bulldog studs and females with many champions in their pedigrees.


CuteBullogs is located in Wichita, Ks. My name is Aron Simpson, I have 3 Human Children and 4 English Bulldogs. I run an internet business out of our home which allows me to be stay at home parent to our bullies. For us there is no greater joy and nothing more fulfilling and rewarding than caring for our bullies.
Our love for this amazing breed started when we decided to get a dog. We looked at several breeds and after much research we decided an English Bulldog was the right choice.
We instantly feel in love with a beautiful girl who we named Maggie. Maggie immediately became like another child of ours. Receiving lots of love and attention. Watching her grow up, we were in awe of how human like she was. Extremely intelligent, funny, loving and obedient. And at times stubborn and rebellious, just like any child.
Our love for Maggie grew into a great passion and obsession for the bulldog breed. We knew we wanted more and to start breeding ourselves. Wanting to share the great quality and traits our bullies have with everyone. So after much more research and advice from our breeder friends, we started adding to our family.